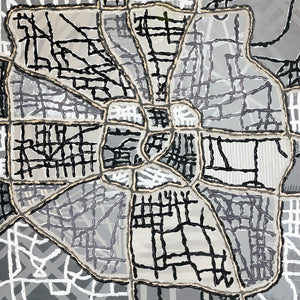 Using acrylic paint, modeling paste, and abstract lines & patterns, this map shows the inner and outer loops of Houston, Texas. Sizes indicated are the original print sizes that can either be taken to a frame shop to be custom matted and framed or can simply be framed as is. 
Original Sizes & Recommended Mat Sizes:
Small: 6x6 matted to 8x10
Medium: 13x13 matted to 16x20
Depending on your desired frame size you may wish to mat the prints to different sizes or not at all. Prints do look best when matted and framed. 
City of Houston
Houston is home to the Astros, Dynamo, Rockets, and Texans. Houston has been voted as the most diverse city in the United States with a vast array of restaurants and bars for all the foodies out there. Many people move to Houston from all over the US, mainly for the oil & gas industry. You can still find plenty of Houston Natives and they will be sure to tell you that they are one. These prints make great gift ideas for those who love Houston with their whole hearts.
Not a Fan of This Color?
Orange & Red prints are available for the Houston map:
Non-Matted (a print as is)
Matted (a print with a thick, white border around it)
If you wish to have a completely different color scheme commissioned, please email sales@kimmiedesigns.com and she can work with you to create the exact Houston map you desire. kimmie can also include geo coordinates on the map of places that have significant meaning to you such as the home where you grew up or where you and your partner had your first date. 
What to Expect Upon Arrival
When you receive your print in the mail, it will be shipped in a flat box to avoid damage to the art. If you wish to have your prints matted and framed kimmie recommends taking your print to a local custom frame shop to be professionally matted and framed.
After You Hang Your Print
kimmie encourages her buyers to send a picture of their newly decorated wall to be featured on her social media page. Please email images to sales@kimmiedesigns.com.