Wall Art & Murals for your Home, Office, or Man Cave
These maps create a sophisticated look for your home and allows your space to have more culture, a talking point, and adds just an all around cool look to your boring white wall. kimmie's art is meant for both male and female but designed for dudes in mind who have a hard time finding non-feminine art for their space.
Commission a piece of a location that has great meaning to you such as your hometown, your favorite vacation spot, or where you and your partner met for the first time. Prints of kimmie's original pieces make excellent gift ideas or very affordable ways to decorate your current space. kimmie's artwork is designed to be placed in any room such as living rooms, dining rooms, bedrooms, kitchens, and even bathrooms! 
Allow kimmie to design a unique mural for your space. Murals can represent your brand or company culture and have the flexibility to fit on a wall, the ceiling, or even the floor. The sky is the limit when it comes to designing a mural. If you have a vision kimmie can transform it into a large scale masterpiece.
Proud Vendor of PPG Paint
kimmie was hired by PPG Industries to create and engineer a mural at The Boys & Girls Clubs Greater Houston to revamp their game room with a paint-by-number community building activity.
Read More
kimmie .
a creative thinker with a gift to see space in a way others cannot. a fun, innocent, and childlike spirit. she loves hearing the stories of her clients' inspiration for commissions. kimmie's main medium is acrylic paint, she uses this with her maps and murals. Images of kimmie taken and edited by Integrowth Creative.
Hire a Local Muralist
kimmie will create a design based on your idea or vision. Murals can be indoor or outdoor, home or business. Popular mural placements are in bedrooms, offices, and restaurants. Murals are excellent for large wall, ceiling, or floor spaces.
hire kimmie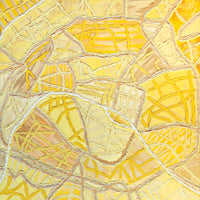 Don't See The Map You Want?
kimmie can create a map of any location, city, state, country, route, trail, etc. If it's a place - it has a map - and kimmie can make it. Start your commissioned piece.
Gift Ideas for Birthdays, Weddings, & Housewarming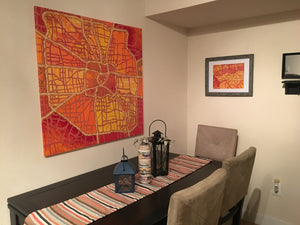 Matching Sets
Sets look excellent in a living room or dining room. Commission a large canvas of the city or state of your choosing in the colors that work best with your home. The smaller piece can be a print associated with the larger piece.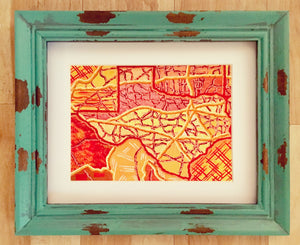 Framing Prints
Choose a print for your fellow Texas lover, or for yourself! Prints do not come framed but all prints come in standard sizes to easily find a frame that meets your preferences.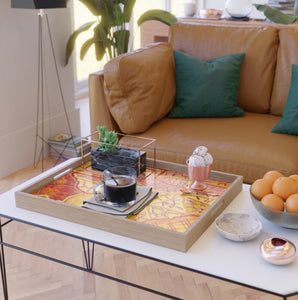 Designs on Products
kimmie has partnered with Society6 to have her designs on products you will love for your home. Including bar stools, laptop cases, tables, pillows, and more!
Testimonials
Kimmie was amazing! We have a new small restaurant under construction and we want to have something that help makes the small restaurant environment not too tight and comfortable. Lucky we met Kimmie and she took time to uncover what we want and our budget. After about a month we're so happy that we now have what we want in our new restaurant and it's beautiful! Thanks Kimmie!

Aaron
Found her work at the City Centre Art Fest and fell in love with her Houston map! Great prices for great art!

Anna
Amazing job on a nursery mural. She was easy to communicate with over email, receptive to my design ideas and schedule, and did an amazing job overall. She was so quiet in our home - didn't even notice her! :) Will use again for sure!

Kelly
Bought a lovely piece from my friend Kimmie and so excited to frame it in my living room! Go Kimmie!

Sammy
Beautiful color coordination and depiction of Texas!!

Maria
Such amazing art! I love the impressionist interpretation of our beautiful home town and state. My cousin loved his 5x7 print of Texas in Prairie View A&M purple and gold! Kimmie is a Houston gem!

Mariel
Kimmie Designs is so creative and truly one of a kind. You won't find these pieces anywhere else! The buying process was also so easy which created a great customer service experience.

Cristal
Kimmie is an amazing art designer. I have had the privilege to work with her on the Fine Arts team in the Aldine ISD school district. Kimmie specializes in producing background themes for music, dance, and theater performances.

Christina
Kimmie Designs is truly one of kind! She created a beautiful mural at my school's cafeteria that represented the school as whole. The staff and students participated by signing the wall under the painted mural. It was definitely a memorable moment for all us involved. If you're ever looking for someone to collaborate and create something unique for for your space.. Kimmie Designs is the best!

Daisy