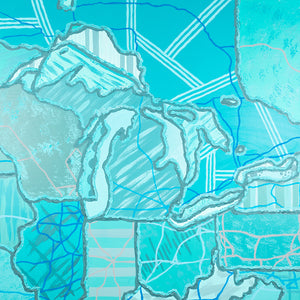 Are you looking for a unique and one of a kind piece for your home or office? Look no further. This eye catching masterpiece will spark conversation with anyone who comes to visit. Admire the detailed patterns, array of blue acrylic colors, and see the beauty in all of the Great Lakes!
Using acrylic paint, modeling paste, and abstract lines & patterns, kimmie creates abstract maps of any location such as cities, states, countries, or trails. 
If you would like kimmie to create a custom piece for you based on your desired map location and color preferences, let's start the commission process today! 
Original Artwork Offerings:
Houston: 36x36 Black and White Color Scheme
Texas: 36x48 Black & White and Black & Gold Color Scheme
Texas: 16x20 Multi Color Scheme (based on University colors)
Abstract Maps Painting Process
kimmie first identified major highways and roads in the map and ensures those will be within the canvas and sized properly using a projector onto the canvas. Using Frog Tape, the highways and roads are blocks off to prevent any paint from getting on them. 
Then, kimmie paints the bases of the map depending on the color preferences using acrylic paint. kimmie designs all types of abstract lines using varying shades of the colors. 
Once the base is painted, the Frog Tape is then removed revealing the highway and roads. Using acrylic paint, gold leaf, & modeling paste, those areas are painted. 
Original Canvas Too Big or Too Much?
Prints are available for many of the original painted canvas (if you order a custom piece kimmie will not create prints since you are the sole owner of the artwork created):
What to Expect Upon Arrival
When you receive your canvas in the mail, it will be shipped in a large flat box and padding within to avoid damage to the art. kimmie recommends taking the canvas to a local frame shop to get a custom frame made for hanging the piece.
After You Hang Your Canvas
kimmie encourages her buyers to send a picture of their newly decorated wall to be featured on her social media page. Please email images to sales@kimmiedesigns.com.